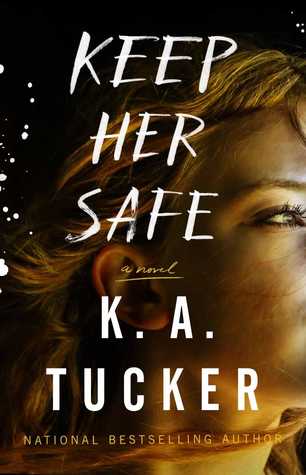 A couple months back I received an email asking me if I wanted to read Keep Her Safe for review. As I usually do I looked into the plot of the book to see if it was something that interested me. USA Today said "Making a Murderer meets Scandal in this story of police corruption, family secrets, and illicit affairs from bestselling author K.A. Tucker, celebrate for her "propulsive plot twists and searing seduction."
If that doesn't sound intriguing I don't know what does. I finished this book very quickly because I simply couldn't put it down, that's how good it was!
The book begins with two police officers, Jackie and Abe, who are not only partners but best friends. Abe is like a father to Jackie's son Noah, so when Abe is murdered in a hotel drug bust not only do they lose their friend but Abe's daughter Gracie and his wife are left behind as well.
Flash forward many years later and Jackie -who's now Chief- is also a drunk who is constantly facing demons from her past. Noah returns home one night to his mother so intoxicated that he can't understand any of the cryptic comments she's making to him. He goes to take a shower and while he's gone Jackie commits suicide. Leaving behind not only a destraught son she also leaves behind clues for Noah telling him that Abe's murder wasn't what everyone thinks it was. She also leaves him money that she instructs him to give to Gracie who now lives in a trailer with her drug addicted mother who has never recovered from Abe's death.
Gracie and Noah get off to a rough start but after things are explained and the two of them go on the hunt to find out the true story of her fathers murder things start to heat up not only between them but in the case as well.
I loved that there was a relationship we got to watch form between the two of them but I also loved that I was on the edge of my seat waiting to find out what was going to happen. Who killed her father? Why was he murdered? Would Noah and Gracie be next for not leaving the past in the past?
If you're looking for something to keep you guessing and also will give you the romance you crave then I definitely recommend picking up a copy of Keep Her Safe.
Buy Keep Her Safe Here:
Amazon
Barnes & Noble
Kobo
If you want to listen to my playlist for Keep Her Safe on Spotify click
HERE
I'm an affiliate for the Book Depository so if you'd like to purchase Keep Her Safe or any other book your heart desires - with FREE SHIPPING click
HERE
4.5/5 Donut Stars!!